Ready to take your training to the next level or just need that extra push?
We offer TFPT (Total Fitness Personal Training) which is powered by our PT partners Pro-Fit Personal Training and Evo-Fit Personal Training to provide our members with the highest quality of PT to meet and exceed your needs.
Whether it's weight loss, nutrition, fitness or rehab, these expert trainers will get you motivated and on track to achieve your goals.
Our PTs create bespoke training plans, designed specifically to meet your goals, factoring in your body type, lifestyle and any personal limitations you may have.
You will be guided through your workouts with your PT by your side, making sure every ounce of energy exerted is being put to good use, whilst being the encouragement to keep you going when you feel tired.
Not only will your PT use their knowledge and experience to tailor an exercise plan for you, they can also advise you on what, when and how much to eat, aligning both your exercise and diet to propel you towards your goals.
Once you decide to get a personal trainer, whether that's a one off to get you started or a block booking, you will be given the chance to hand pick your PT, ensuring you feel comfortable and confident you are with the right person to make your goals a reality. 
Ask in club today to arrange the first step to a new you.
Read our blog for inspiration: Why a PT could help you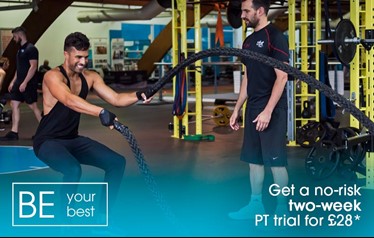 *excludes Aintree