View Vacancies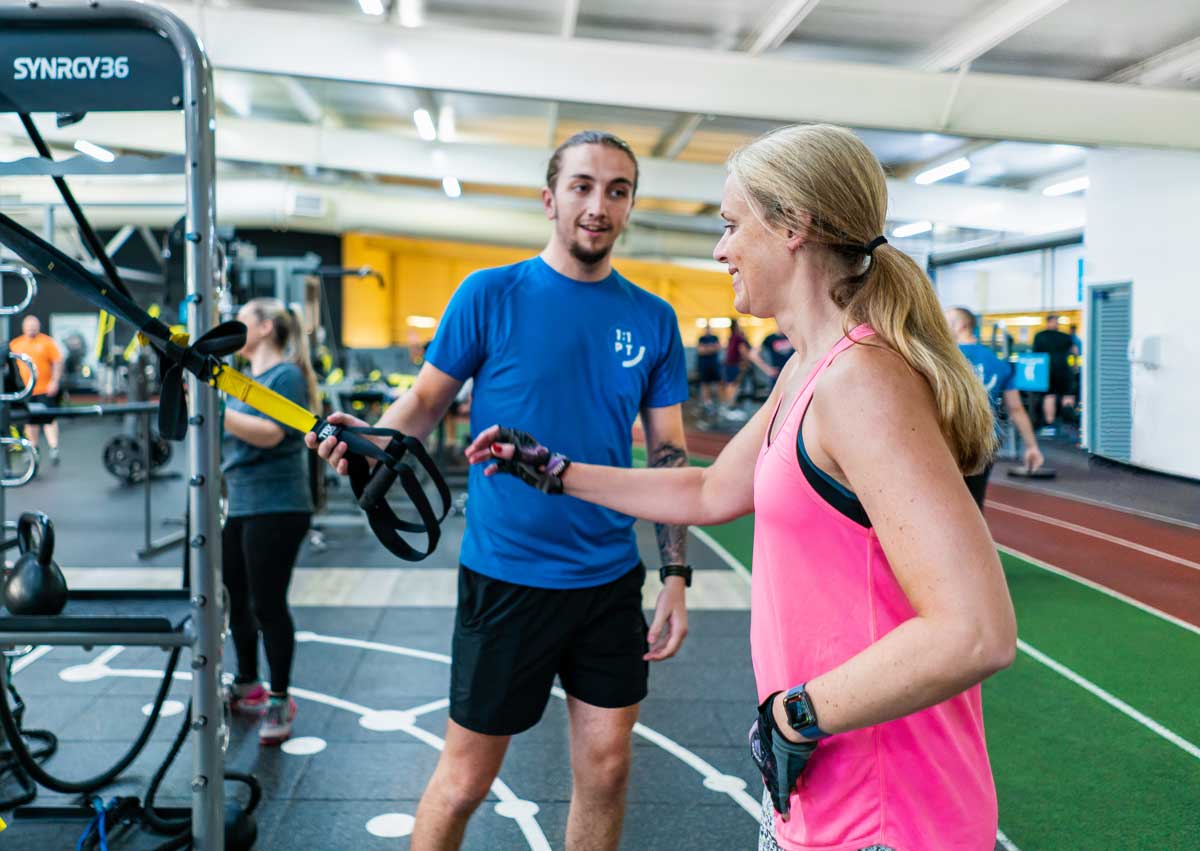 Who are
we?
We're Total Fitness, a leading health club brand with 15 clubs across the North of England and Wales. For nearly three decades, we've had a strong belief that everyone is better fitter, and that belief is stronger than ever in 2023.
We know that true fitness needs variety to keep workouts fresh and engaging, so our large health clubs offer many ways to workout; extensive gym floors, over 70 classes, impressive swimming pools, expert personal trainers, and digital content - allowing our members to workout wherever and whenever they want.
If there's one thing we're sure of, it's that movement is good for you. And that goes far beyond just moving our bodies. Joining the team here at Total Fitness, means the freedom to move your own way, along your own path, constantly finding new ways to reach your full potential - whatever success looks like for you.
We support one another, take the initiative and tackle each challenge head on, because we want to provide exceptional experiences for both our team and our members. We celebrate together, get stuck in together, and we help each other through. We can't promise it will be easy, but we can promise it will be worth it - and that'll be a lot of fun.
Here, you'll have the backing of the whole team; a crowd of supporters who want to help you be more, and do more, than perhaps even you thought possible.
This is where movement happens, this is where you get going and keep going.
This is where more is possible.
Are you team
Total Fitness?
We're on a mission to get everyone fitter and feeling better, whatever that means to them. As a bold, brave business, we encourage people to find their own way, in fitness and beyond and every single role we have contributes. Our team is made up of a variety of roles:
Fitness and Personal Training
Club Management, Operations and Facilities
What you'll
give
To join us we ask you to:
Be yourself. Bring your true self to work each day and add your personality into everything you do
Do the best you can to create exceptional experiences for our members
Bring your experience and drive to work each day
Use your initiative and make things happen - whether you want to be with us for the short or long-term
A focus on
you
A refreshing and supportive environment that inspires individuality
A place to be you. Your character, what makes you an individual, that's what we want you to bring to work with you every day.
A free membership for you and a family member, plus discounted memberships for 2 additional people
Regular one to ones with your manager and the support of a team who encourage you to reach your full potential
Varied and flexible
opportunities
Depending on your role, there'll be opportunities for training and development to help you reach your next step, whatever direction that's in
A defined yet flexible career plan if you want it, and a place to turn your passion into action
The opportunity to provide regular feedback on your experiences through our Employee Engagement Survey – A chance to help shape the business going forward.
A crowd of
supporters
We celebrate and move forward together, so plenty of social activities and events
An induction day where you'll meet people from across the business alongside other people starting their journey with us
We believe everyone is better fitter, so if fitness is your thing, we often find opportunities to workout together
As
standard
A competitive salary
Holiday leave entitlement
Pension
Discounts on our retail and cafe products
So,
what's it like?
We're really proud of our culture, we put our people first, always. Our promise to our team is that "more is possible", whatever that means to you. Whether that is moving up the career ladder, delivering your first spin class, or making incredible friendships.

We're a place with contagious courage that makes people believe they can do more and be better.
Our team
want you to know
"Since joining the club I'm proud to say that my confidence has grown and it's made me a happier and more outgoing person. Getting back into the gym has also improved mental and physical health too."
Kirsty, Front of House, Lincoln
"You come into work at Total Fitness and there is just such an amazing feeling in the building. We have members here that are so friendly and you really get to know these people and feel part of their health journey. It's a really positive environment to work in."
Adam, Membership Team, Preston
"Everything that I do now in my role, I never thought I'd get the opportunity to do. I didn't expect to develop as I have done and would never have thought I'd be sat where I am now with the new skills I've learnt. I wouldn't of dreamed of running pool plant rooms when I first started and now it's like second nature and is one of the most enjoyable parts of the job."
Jack, Facilities Team, Wakefield
"I've been able to have a balanced lifestyle - something I've found hard to achieve. I learn more in the IT world each day, and continue to keep active. I'm proud that I've achieved this balance after struggling with finding it for so long."
Matt, Central Support Team, Wilmslow
"I'm fairly new to the business and have already learned how to organise and deliver the boot camp classes which was a new experience for me. I also got the opportunity to participate in video filming of digital content and the experience was great. Both boot camp and video filming boosted my confidence and given me opportunities to try new things"
Mustansar, Fitness Team, Bolton
"You can push yourself out of your comfort zone here, you'll get the opportunity to do things you wouldn't normally do, without fear of being judged if you make mistakes."
Dave, General Manager at Altrincham
"I really like working at Total Fitness, helping our all the people that we've got. We have some fantastic facilities, lots of different ways of working out, encouraging people of all ages and motivations to simply become better every day."
Johnny, General Manager at Wakefield
UK Company Culture Awards
2023
We're pleased to share that we've been announced as the winners of the Next Generation Initiative award at the UK Company Culture Awards 2023 for our internal training and development programme, Elevate. The award recognises businesses that help to support and develop employees on their career journey towards becoming General Managers and future leaders.

In the same way as we are committed to lifting our members through the power of fitness, we also want to lift our team members by unlocking their potential. The Elevate programme is one example of our promise to make more possible for our people and it's one we're really proud of.