#DestinationYou Food: Pizza Slaw
Pizza Slaw
Makes 4 large portions
As soon as summer arrives, we all want to add some sunshine to our meals, but who would've thought that tomatoes could help protect against having too much sun on your skin?
If you follow the TOPPER tip for this slaw you can achieve the flavour of pizza, but without maxing your calorie quota for the day.
Research shows that tomatoes help protect against sunburn and skin ageing caused by the effects of UV exposure. This is all down to the antioxidant lycopene (which gives tomatoes their red colour) and it's most effective when heated.
You will need...
2 courgettes
1 large tub (around 250 g) of mini tomatoes
1 red onion
1/2 red chilli, deseeded
1 garlic clove
1 tablespoon dried oregano
1–2 tablespoons tomato puree
3–4 tablespoons red wine vinegar
Sea salt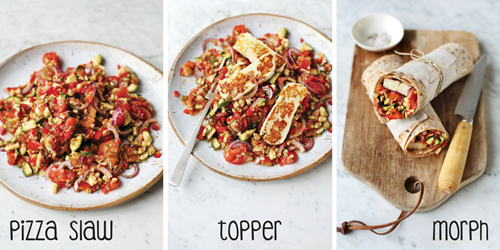 Let's get going... 
Place the courgette in a food processor and pulse the button until chopped. Remove any extra chunky pieces and pop back in if you need to (courgette is a tricky customer for a consistent chop!). Place in a waiting bowl.


Repeat with the tomatoes. They will blitz in seconds, so avoid over-pulsing.


Hand-chop the onion, chilli and garlic into thin slices and add to the mix.


Sprinkle with oregano and mix.


Squeeze the tomato purée over the mix and add the vinegar. Depending how the mixture stirs, you may need to add a little extra vinegar.


Mix well and sprinkle with sea salt.
Morph your slaw
Pizza Wrap
Place any left over slaw in a flatbread.
Add in a few slices of grilled cheese.
Add a little chopped and fried chorizo sausage and some freshly steamed kale.
Roll into a burrito shape and serve straightaway.
Toppers for your slaw 
Halloumi is great with this slaw, though mozzarella is perhaps a more obvious (and a slightly lower calorie) choice for a traditional pizza flavour.