Healthy Halloween recipes
Boo…! Halloween is slowly creeping up behind us, you're thinking of what terrifying monster to dress up as, the party planning is in full swing and now just for the delicious treats… The most important part of course, the food! Halloween doesn't all have to be about sweets, chocolate and fizzy drinks for the kids - trick their taste buds and treat them to these hauntingly healthy snacks! Take a look at these spooky substitutions…
Veggie Skeleton:
Ever have trouble with getting the little ones to eat their veggies, too used to kicking and screaming at the dinner table…? Well, this snack idea is all about getting them excited about eating their veggies, no bones about it! Simple, but effective – a selection of different vegetables aligned as a spooky skeleton. Even let the little ones get involved with the preparation, because as we all know, if they're involved they're more likely to give it a try! The best thing about the idea is that they can have their say of whatever vegetables they want and where exactly they go! So let their creativity be at the center of the snack and let eating veggies be as fun as possible!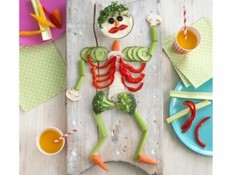 (tipjunkie.com)

Dunking Pumpkins:
Another great table centerpiece that complements your veggie skeleton perfectly, not to mention an extra helping hand to get the little terrors eating their vegetables! Throw the crisp and bread sticks out the window and replace them with carrots dressed pumpkins. Let alone, a great looking snack to add to the terrifying table, but a much healthier replacement. More delicious vegetables and a protein hummus dip to balance the perfect snack. Hocus pocus, another healthy option!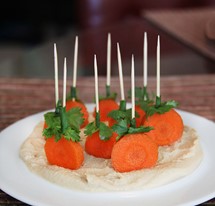 (Partytipz.com)
Dark chocolate apples:
As you might already be aware, dark chocolate has its health benefits to us, But, how the paring of dark chocolate and apples is a potion concocted by witches… an antioxidants rich duo that helps to protect our hearts of all its vital needs, it also helps to improve blood flow too. So here is our heart healthy dark chocolate dipped apples twist to tooth decaying caramelised dunked apples! Decorate to whichever spooky Halloween design of your choice…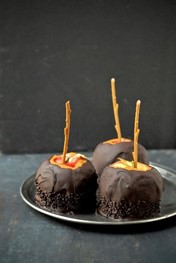 (kumquatblog.com)    

Puking melon monster:
Here is the last of our healthy spine tingling snacks, the centerpiece showstopper that's bound to finish your party table! The puking melon monster is sure to have the little monsters excited about healthy snacking! Again, another gruesome snack for the kids to help get involved with making. All you need is the water melon itself and whatever fruit they like most to add to the puking mess. Carve a frightening face, stick on some evil eyes and pile the fruit in, a fangtastic fun way to get the little monsters eating healthy this Halloween!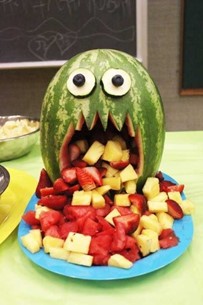 (www.lovethispic.com)                                                                                                                                       

Happy Halloween!