#DestinationYou competition - win a summer recipe book!
This is your chance to win one of three copies of SuperSlaw: Blitz Your Way to 5 A Day by Jill Greenwood… the ultimate summer food prep companion!
All you need to do is post a picture of your healthy food prep/meals/recipes on our social media platforms with #DestinationYou.
To enter on Facebook:
Post your image on the Total Fitness Facebook wall with the caption #DestinationYou
To enter on Twitter:
Tweet us at @TotalFitness with your photo attached and #DestinationYou in your tweet
To enter on Instagram:
Post your image with the caption #DestinationYou and tag us either in the caption or image using @totalfitnessgym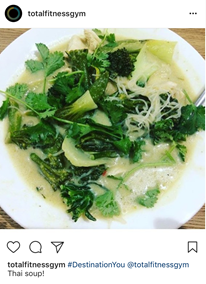 To give you a taste of what's in the book, we've got exclusive access to THREE recipes for you to try - take a peek at Purple Power Slaw, Hummus Slaw and Pizza Slaw!
Scroll down to find out more about the prize…
What's the book about?
It's time to ditch boring juices and soups, and get blitzing to create nutritious, easy and tasty vegetable based meals!
The book contains highly nutritious, convenient recipes for busy people wishing to increase their vegetable intake.
Containing 60 main recipes, each one has two additional variations which show how to MORPH the recipe into something else or TOP it with something extra!
All of the recipes can be whizzed up in an ordinary food processor (or with a knife and chopping board) making it simple and fun to prepare even for those with the busiest of lifestyles.
About Jill
Jill Greenwood is a personal trainer. She developed SuperSlaw as a solution for clients who wanted to improve their diets but struggled to find vegetables interesting or fulfilling, and also lacked the time to prepare a healthy meal from scratch every day.
Terms and conditions
The competition opens on Tuesday 4th July 2017 and will close at 11.59pm on Sunday 27th August 2017.
Entrants can enter on Facebook, Twitter and Instagram using the instructions above, although each image will only count once even if posted on all three platforms.
Entries may be used by Total Fitness throughout the duration of the competition for marketing purposes.
Three winners will be chosen at random within 30 days of the closing date and contacted via the platform their entry was submitted on. 
The prize for each winner is 1x copy of SuperSlaw: Blitz Your Way to 5 A Day by Jill Greenwood - this will be posted directly to each winner upon receipt of their postal address.
Entrants to the competition must exclude Total Fitness employees or anyone connected with the competition.
Total Fitness' decision over the winners of the prize draw is final. No discussion or correspondence will be entered into concerning the winners.
The prize is non-negotiable and no cash alternative will be offered.
By entering the competition, entrants agree and are bound by the terms and conditions outlined above.