TF Whitefield raises £600 to help get Ali to Barcelona
TF Whitefield raises £600 to help get Ali to Barcelona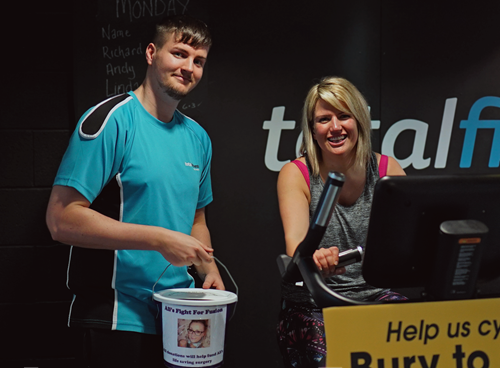 Jon Harris and Helena Taylor from Total Fitness Whitefield taking part in the sponsored cycle.
Team members from Total Fitness Whitefield have raised £600 by getting in the saddle to virtually cycle from Bury to Barcelona and help a local woman on her way to lifesaving surgery.
Alison Turner, known to family and friends as Ali, suffers from a complex neurological condition involving her skull and the second vertebrae in her spine, and risks dislocating her neck on a daily basis.
The 32-year-old's partner, Nick Zabel, set up a GoFundMe page in October last year to help raise the vital funds to get Ali to Barcelona for the surgery, which isn't currently available in the UK.
The team at TF Whitefield, alongside customers and members of the public, cycled the distance from Bury to Barcelona on exercise bikes in the gym's foyer over half term week – all 1,853km of it!
The Key 103 Breakfast team, made up of Gemma Atkinson, Mike Toolan and Matt Haslam, also got involved with the cycle as TF supplied their own exercise bike for the studio to test who in the team was the fittest.
The cycle started on Monday 20th February and Barcelona was virtually reached at 3pm on Friday 24th, with the team smashing the original daily target of 370km to finish six hours early.
Helena Taylor, General Manager of TF Whitefield, said: "We had such an amazing week – the sponsored cycle really brought everyone together for such a worthy cause and we're so proud of the final total raised.
"We had so many people hopping onto the bikes to help us clock up the miles and it was really heart-warming to see families coming down and supporting each other. Everyone at TF Whitefield wishes Ali and Nick all the best for the upcoming operation in Barcelona and hope her recovery goes well."
Ali's partner Nick added: "Thanks to fundraising events like this, we've been able to book in Ali's operation for the end of May. We'll be out there for around six weeks as her aftercare and recovery will take time, but the fact that we've gone from imagining this would be possible to it becoming a reality is overwhelming.
"We'd both like to thank Helena and all the team at TF Whitefield for hosting this event and inviting us all down to take part – it was great to see everyone coming together to make a difference."