Two personal trainers from Total Fitness Wilmslow have raised more than £3,500 for charity after pushing a 1.7 tonne car the length of a marathon on Saturday 15th July.
Steven Chidgey and James Barratt started pushing the car at around 10.30pm on Friday night, before finishing 13 hours later at 11.30am on Saturday.
This was one hour faster than the current world record for the same challenge – an achievement which James has sent away to be officially verified.
They pushed the BMW 3 Series estate in 50-metre intervals outside our Wilmslow club – a total of 844 times forward and back – to raise money for Tommy's, the charity that funds research into pregnancy problems and provides pregnancy health information to parents.
Steven planned a year of fundraising events – including a 5k run, Swim-a-thon, sponsored cycle and the car push – after he and his partner Nicole tragically lost their baby daughter Avery after 28 weeks of pregnancy.
Together they're aiming to make Avery's purpose one that will not only help break the taboo that surrounds the subject of stillbirths, but also support research organisations and make a difference to people who are affected by stillbirth.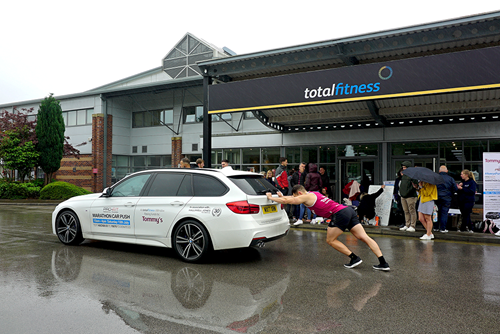 Steven Chidgey (pictured) and James Barratt successfully pushed a car the length of a marathon at Total Fitness Wilmslow
Local car dealership Halliwell Jones Wilmslow provided the car for Steven and James to push, plus members of the public were invited to try the experience for themselves with a Mini Cooper.
Steven said: "We wanted to do something different and this put a new twist on completing a marathon. It was mentally so challenging to start pushing the car, let the momentum build and then have to stop it and push it back, but I'm so proud we did it.
"This was an incredible journey from the minute we planned the event in January to watching it unfold at the weekend. I couldn't have asked for a better friend to have done it with – James helped to push me through every excruciating step over the 13 hours.
"We just want to do as much as we can to make Avery's life mean something and make a big difference to anyone who's unfortunately gone through the same heartache and experienced such a loss."
Jane Brewin, Tommy's CEO, added: "We are so touched and pleased that Steven took on this momentous challenge in memory of baby daughter Avery. Ten babies a day are stillborn, which equates to one in every 200, and no parent should have to go through this heartache.
"Steven's fundraising will go towards our four Tommy's research centres where women across the country can access clinical treatment, including at our Rainbow clinic in Manchester, which helps couples who have suffered stillbirths have healthy, successful pregnancies and births."
To find out more about #AverysPurpose and how to donate, please visit www.justgiving.com/averyspurpose