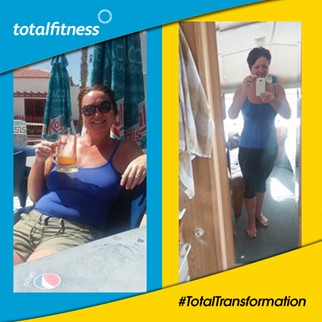 TF BoIton member Yvonne Entwistle's story!

Some people don't think that personal trainers are for them, they're only for the super fit and for the famous… but that's totally not true! Have a read of Jane Tierney's story and see for yourself!
"I started my journey 12 months ago at TF, only for the spinning classes at 6.30 in the morning, I gave up smoking almost 4 years ago and with that reward came 2 stone plus!

So next, I needed to get back to my goal weight, 2 months later I had a free taster lesson with a personal trainer Rachel Wood. Where I went on to lose 9lbs on my own, in April I decided to be one of Rachel's clients and I'm so pleased I did!

I was 14 Stone 2 originally when I started with Rachel - I was 13 stone 7 in the first 4 weeks I lost a massive 14lb… wow what a great feeling! Following the plan Rachel had set me in the gym and healthy eating I felt great.

I finished with Rachel at 12 Stone 4lbs and since then, been training on my own 4/5 days a week where possible, I am now a size 12 weighing 11 stone 13lbs and I can not believe this! Lifting weights certainly helped you get there and I now want to achieve a Tough Mudder course, something I would never imagine myself doing 12 months ago. I'm fit and Healthy and I'm loving it - NO MORE EXCUSES, YOU CAN DO ANYTHING IF YOU PUT YOUR MIND TO IT!!!"
Have you got an amazing story to share? Go to https://www.totalfitness.co.uk/members-transformation/ to tell us about your story and be entered to win a year's free membership.