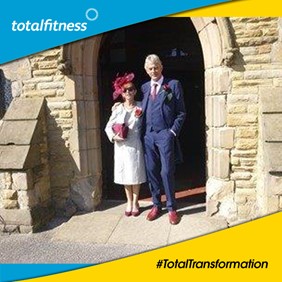 TF Aintree member, Wendy Hall's story!

Keeping track of our weight is a task in itself and isn't made any easier with life's everyday challenges. Especially when we get older, we find less time each day to exercise – likewise when something sad happens to a loved one. Take a look at this incredible weight loss story by our Aintree member Wendy Hall.

"Having gradually gained weight as I got older, I struggled with keeping my weight down. Then in 2012 my father became seriously ill, in Somerset where my parents lived, so I spent most of the year travelling back and forth between Liverpool and Somerset.

Initially, my father was in hospital from March to September, then sent home where my mother had to nurse him. So between the times he was in hospital and my mother looking after him, we ate whenever we could and with not being able to exercise I piled on the weight topping 11 stone at Christmas 2013.
I was in Somerset more than I was in Liverpool, so I persuaded my mother to sell their house and relocate, so that I could help with looking after my father who was left severely disabled. I found this extra weight even more difficult to shift, and at 5'1" the extra weight really showed on my face as well as my waistline.
Then in 2015 my daughter announced that she was getting married in Las Vegas, there was no way I was going to appear at my daughter's wedding looking like a 'hippo', So I set about a serious diet and exercise plan again, and in the first month I lost 5lbs, then at the third month nearly a stone.

I kept at it and it was hard, but finally by their wedding I had my weight down to 9 stone, I had lost 2 stone in 6 months. The next big challenge was keeping it off because every time I had lost the weight, I managed to put it back on. But this time was different.

Then in February 2016 my other daughter announce she was getting married so there was another reason to stick at it. I was so proud to stand at both weddings looking like a presentable mother of the bride rather than a 'big round lump'. I lost that much weight that people on the street wouldn't even recognised me.

Hopefully, I have this weight thing cracked now, is I stray a bit over by a few pounds then I tighten my diet and do some more exercise to get back down. Sadly my father passed away in June, so now I have plenty of time to exercise and keep the weight off, I've also persuaded my mother to join the gym and we do yoga together each week."

Have you got an amazing story to share? Go to https://www.totalfitness.co.uk/members-transformation/ to tell us about your story and be entered to win a year's free membership.