Tracey Windscheffel's story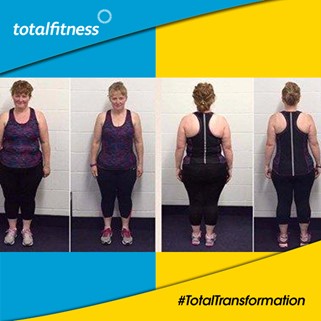 TF Wakefield member Tracey Windscheffel's story!

It's amazing what you can achieve when you put the work in. I guess what you put in, you really get out! Well done Tracey you are an inspiration!

"I have been a member of Total Fitness in Wakefield for several years now, I only went because our son trained there too and to keep him company. I have battled my weight for 27 years, and my health had started to go downhill. I have tried most diets and even resorted to diet pills, but the weight went back on as quick as it came off.

In September 2015, I received an email offering me a free trial and I knew I had to do something. My confidence had completely gone and with the thought I could get type 2 diabetes, I decided to give it a go.

I wasn't too sure about training in the gym, because I was worried I wasn't fit enough to try the weights, but Jonny my Personal Trainer, gave me the confidence and guidance I needed to change my life for the better. Now I love being in there, and I am in there most days and can work out on my own. The staff are so encouraging and have seen me change so much and my confidence is beginning to come back.

I have been training with Jonny for just over a year now, since then I have not had one chest infection or been really poorly, and I have so much energy, before I would sit in a chair and fall to sleep.

Personal Training for me has been a life changer, I couldn't have done any of it without Jonny and the Wakefield team, they are awesome!
I have not only lost 5 stone
I have completed two 5K runs and run several other shorter distances
Completed three triathlons
Bought a road bike and cycle to and from the gym
Swam in open water, can swim up to 84 length of the pool in one session
Swim the front crawl
Lift weights
Completed Total Loser which helped with my confidence
Been on a night out in Leeds which was a big thing for me
Learnt how to eat properly and know the benefits of drinking water
Plus I have met some lovely people who have become good friends too!

I cannot believe I can now go into a dress shop and buy clothes that are 5 sizes smaller than before!!

The main target I wanted to do was play badminton, I hadn't played in a match since I was 16 years old, Jonny not only helped me starting to play again, I have joined a club and played in my first ever match. It was the most amazing feeling ever and more so we won.

My family and I are going away on holiday for the first time abroad in February. I haven't wanted to do it before because of being so overweight. I am so excited about going because I can buy lovely clothes and not feel so self-conscious about people looking at me in disgust because of my size.

I still have a way to go with my weight, fitness and especially my confidence but I know I can do it with all the support I have around me keeping me going. I have plans once the weight is off to do more triathlons and I know I can do it. Also, I am going away next weekend to walk up Snowdonia which is going to a big challenge, I have never walked that far before.

I have so much to thank especially Jonny for, for keeping me going when I have wanted to quit and being there every step of the way, the PT team for the encouragement they have shown and still are and for the staff in Total Fitness for being so friendly. I am looking forward to the future and looking forward to reaching my target which will be losing 7st 11lb in total, it's going to be amazing."
Have you got an amazing story to share? Go to https://www.totalfitness.co.uk/members-transformation/ to tell us about your story and be entered to win a year's free membership.