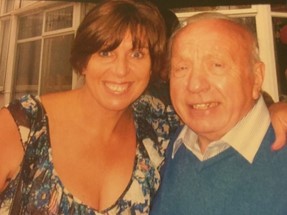 TF Altrincham member Tracey Dawson's story

Have a read of Altrincham member Tracey Dawson's incredible story of how she has overcome a battle with depression.

"I've had a really difficult year, my dad died suddenly and mum has Alzheimer's, It was a struggle and she needed to go in a home. This devastated me. I was working full time in a pressured environment with many responsibilities. However, I really wasn't firing on all cylinders. I was struggling with depression, but I didn't know it. Balancing family life and work demands meant I was constantly pumped up with adrenaline. Then one, day my body just said I can't do this anymore!
It was a mental crash, but the physical exhaustion was immense, no one really understands unless they've been through it, but it can happen to each and every one of us. Mental health has such a stigma, I was very poorly, but eventually when I was starting to recover from the sheer fatigue I joined Total fitness. That's where my transformation journey began. My priority was getting into a routine, building up my stamina and finding ways to combat the crushing anxiety.

Swimming was my way forward, each stroke seemed to break through the deep pit in my stomach. The plunge pool made me feel exhilarated, the hydrotherapy pool eased the aches and pains that my body felt riddled with. Zumba started to give me my bounce again and made me laugh as I'm so badly coordinated, but it didn't matter! Yoga brought me peace of mind and helped me to relax. I have found that Total Fitness has helped me find my zest for life and enabled me to combat the wealth of issues depression brings. Sometimes in Zumba I didn't like to see myself in the mirror as I'd put on weight and my self esteem was low. I feel like I've transformed because I've started to mend from the inside. I'm beginning to feel beautiful inside again and I have started to catch myself in the mirror at Zumba and I like the person who is looking back at me!

There is still a long way to go in terms of fitness and weight loss. I'm not a beach babe in Lycra, but I'm me. I'm not hiding what happened to me I have nothing to be ashamed of, I'm fighting this awful illness and I'm starting to win."

Have you got an amazing story to share? Go to https://www.totalfitness.co.uk/members-transformation/ to tell us about your story and be entered to win a year's free membership.