Total Fitness instructor scoops international award
Total Fitness instructor scoops international award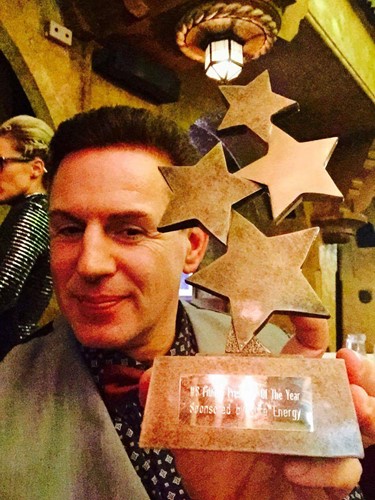 Stuart Harrop, a fitness instructor from Total Fitness Wilmslow, with his IFS Fitness Presenter of the Year award.
A popular instructor from Total Fitness is celebrating after scooping the Fitness Presenter of the Year award at the International Fitness Showcase (IFS) in Blackpool.
Stuart Harrop, who teaches a variety of exercise classes at Total Fitness Wilmslow, has been a presenter at the IFS for 15 years before winning the award.
A very familiar face at our Wilmslow health club, Stuart has been teaching classes here for the past 17 years as well as training up a number of the instructors currently working in the club.
Finding out he'd won the award was a complete surprise, as he explains: "It was a total shock but I was really pleased and proud. Apparently my acceptance speech was hilarious as I'd had a drink and I don't drink normally!"
Stuart credits his unique teaching style as the reason he beat several other instructors from across the globe to the title.
"It sounds big-headed but I can only share what other people have said about me and that is there's nobody in the industry like me," he said. "I use humour to make my classes so much fun you don't realise you're working really hard.
"I've been presenting at fitness weekends and showcases for the past 20 years, travelling all over the country and abroad to build up my reputation and teaching skills."
Scooping the prestigious award has only enhanced Stuart's passion for his job, as he explains the three things he loves about being a fitness instructor: "I strive to give people a positive fitness experience, develop people's skills and fitness levels, and help them build self-esteem."