The Wigan Runner: Why I run everyday and how you can too
On January 1st 2017 I set myself a personal challenge to run every day in the first month of the year for 31 consecutive days.  I had run before but no means was I a "runner".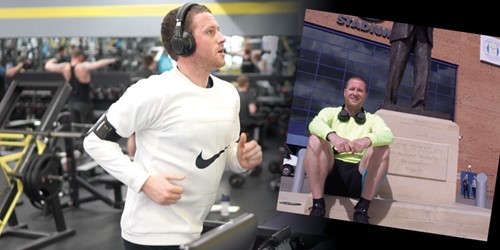 People say there is such thing as the "running bug" and well, it certainly got me!  I didn't stop at 31 days or even 50 days. It's now over a year on, 484 days on to be exact and I have run every single day! I like to run around my local area (i'm a very proud Wiganer) and also I'm lucky enough to have run across 16 countries around the world. My runs are usually 5k a day but I often exceed this, in fact, at the time of writing this blog I've just completed my second half marathon! So, for anyone wanting to run but not knowing where to start, here are my 5 top tips:
My 5 Top Tips
Start off Walking
Almost anyone can walk and it's something almost everyone does daily.  Try and turn it into speed walking -  before you know it you're running!
Diet
A healthy balanced diet is the key to fitness. Take the time to read up on what fuels your body best to achieve your fitness goals and what works best for you.
Keep yourself safe
It's important to keep yourself safe while running - be aware of your surroundings, tell somebody where you are going and wear illuminous or reflective clothing particularly when running at night.
Rest
The body repairs itself while you sleep, it's important for all round health and particularly to heal working muscles when you run. Listen to your body!
Cool Down
My favourite way to cool down after a run is to visit Total Fitness for a swim and a steam, it really is the most satisfying way to end a session of exercise.
Why I Continued Running
After completing my original challenge in January 2017, I came into contact with a homeless charity in Wigan who asked me if I would continue running and help raise money for a van to be used to distribute food and clothing to the homeless in Wigan and surrounding areas. Being introduced to the charity gave me an insight of the poverty and desperation of people on the streets of my home town and humbled me on how brave and strong these people were. 
I began helping at the soup kitchen on a Wednesday night in Wigan town centre and met some of the amazing, inspirational people. People like you and me who had been unfortunate enough to become homeless.  Of course, I accepted the challenge. On day 187 we raised enough money to purchase a van through the generosity of hundreds of people from around the world who donated and raised over £2,500 for a van to Help the homeless.
The feeling I got from helping others and achieving something I'd never thought was possible drove me to do more. I was in search of the next challenge and the next people I could help.
I had been coaching Dodgeball at Wigan Youth Zone for a number of years, something I was passionate about and I really enjoyed doing.  The children I am lucky enough to coach inspire me every day with their excitement and motivation to do their very best, showing excellent sportsmanship and a drive only true dedication can achieve.  One day, we got an exciting invitation to participate in The Dodgeball World Cup hosted in New York in August 2018.  I knew then, we just had to find a way to be there; we had to represent our town and celebrate the hard work the children had worked towards.  It became my mission to raise enough money to be able to take the group to New York for a "once in a lifetime" trip and to compete with athletes from around the world. I have set up a just giving page for this and every run I do these days is for those children and they keep me motivated even when I don't feel like running I will never give up trying. 
You can continue to follow Matthew's journey and support him here: https://www.justgiving.com/fundraising/matthew-melling1