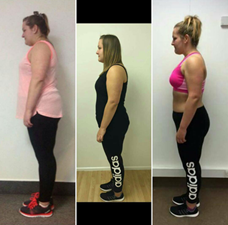 TF Preston member Tayler Rhodes' story!

"With hard work anything is possible!" Yes Tayler, anything really is possible!

"I joined the gym in summer 2015, but didn't really know what I was doing, so I tended to just do some cardio and swimming and didn't really get any closer to my targets.
In February this year I took the plunge and joined the Total Loser competition with the PT team. Since then I have lost over 22kg and transformed my life. I have dropped 4 dress sizes and I continue to train hard with the knowledge I have gained in the last few months.
The resources available from the PT team and the excellent range of classes available, have meant I am progressing further with my fitness each week. During my weight loss journey I have also managed to run my first 5k and more recently my first 10k.
Anything is possible if you work hard!"

Have you got an amazing story to share? Go to https://www.totalfitness.co.uk/members-transformation/ to tell us about your story and be entered to win a year's free membership.