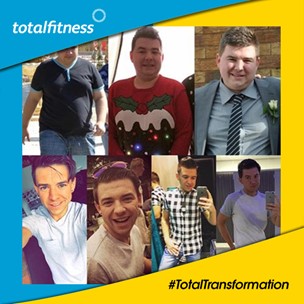 TF Wrexham member Shaun Griffiths' incredible weight loss story

Another incredible #TotalTransformation story that deserves to be shared! Shows again how with hard work you can achieve anything! Well done Shaun!


"When starting at the Gym back in 2014, I weighed a scary 18.5 stone. I couldn't get to grips how I let myself get this big. My life was dull, I had no energy, lazy and no personality. I said to myself enough was enough, I'm changing and getting myself in shape! From the beginning of 2014, the training was HARD. I went through really stressful times, I didn't want to do it but I forced myself into going. My body slowly got to grips with these changes, but really inside I wanted to cry and give up. After a few months, I slowly started to enjoy the training and began to see results, which gave me the motivation to keep going!
While I was also training I made friends with people at the gym who also gave me advice and helped me along with my training. From then on, I came to the gym everyday, (still do now) and train hard, doing plenty of cardio and weight training. I've kept to a very healthy lifestyle of eating the right foods with lots vegetables. I've now cut out any junk foods, "McDonalds" or "Pizza Hut" - these are now out of my food plan and I would never be interested if someone asked me if I wanted to go for one.
Of course I do treat myself and still enjoy food, but I'm just sensible with what I eat. All my clothes I used to wear were XXL Tops and jumpers, my biggest pair of trousers were 44" Waist! I now wear 30" waist trousers and fit small & tops/jumpers! I've never been happier in my life! I now weigh a happy 9 half stone! I've lost 9 stone all together. I would never look back! My life has changed so much and I feel 10x better! I'm a totally new person, Look different and feel different!
I would like to Thank Total Fitness for supplying such a great gym in Wrexham, all the staff are brilliant and again Total Fitness is my second home, you'll always see me there!"

Have you got an amazing story to share? Go to https://www.totalfitness.co.uk/members-transformation/ to tell us about your story and be entered to win a year's free membership.