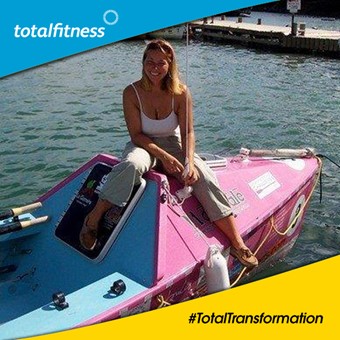 TF member Rachel Jones' amazing story of rowing across the Atlantic Ocean!
Ever dreamt about having your own Guinness World Record? Well, that's exactly what TF Chester member Rachel Smith has achieved!

"I first joined Total Fitness many years ago as I was looking for a new gym near to home - it's so long ago I can't actually remember the date but it can't have been long after it opened. I was a member of the Great Britain Dragon Boat racing team, so needed to train year-round ready for selection for either European or World Championships each year. Total Fitness had everything I needed to train, with enough variety to keep me interested.

In 2004 I made the fairly major decision to row across the Atlantic Ocean with my best friend in a 24 foot boat. The challenge was set for 2007 and my training at Total Fitness was integral to the success of the challenge. To be honest, I'd tended to avoid rowing machines up to that point, but they soon became a staple of my training.

 Happily, we made the crossing successfully and were awarded a Guinness World Record as we were (and still are!) the fastest British women to complete the crossing!

 Total Fitness has been a part of my life for a long time, and even though I often work away and can't get there as often as I'd like, it still feels like a haven and a place I can go for me-time! Thank you Total Fitness."
Have you got an amazing story to share? Go to https://www.totalfitness.co.uk/members-transformation/ to tell us about your story and be entered to win a year's free membership.