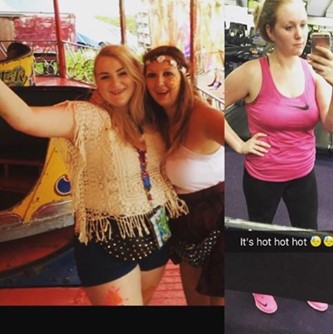 TF member Nathalie Optiz's story!

Another amazing #TotalTransformation of Total Fitness member Nathalie Optiz. Well done Nathalie on everything that you've achieved with us at TF!

After years of studying at university and living away from home I hadn't quite realised how much weight I'd put on. Before starting university I was roughly around 11 and a half stone, and last year (June 2016) when I went along with my grandmother in law to a weight loss club to keep her company, I thought I'd just go on the scales to see what I weighed, and was shocked by the result... 15 and half stone! I knew I wasn't as slim as what I used to be because of my clothes size etc, but I had no idea that is how much I weighed. At this point I knew I had to do something about it so I started going to this club, after a few weeks I realised I needed to do exercise as eating alone wasn't changing much. So I came for a tour round Total Fitness and by the end I was signed up. I started going a couple of times a week swimming and using the treadmill to walk, but I wasn't really motivated. Also alongside starting a new job, I just kept making excuses not to go. It was very rare I went to the gym more than once a week and in December I didn't go for about 3 weeks. After Christmas I was unhappy and was buldging out of my size 16 jeans! I then said "2016 is going to be my year" and give it another shot and by god I have never looked back. I thought classes would be more motivating so I went to my first Spin class on the 5th of January and it was as hard as I expected, but I loved it. I tried other classes such as Body Pump, Body Attack and Boot camp Aqua. In my first week I lost 4lbs! Now 10 months later I am 3 and half stone down. I go to the gym 4-5 times a week doing classes and other activities, I did my first 5k run for Race for life in July and on 6th November I am doing my first 10k run for Age UK – Leeds Abbey Dash. I can't believe myself, how far I have come but I am a much happier person and I am so glad I have got into fitness. The classes are what motivates me and the lovely staff at Total Fitness which made me feel welcome as I was so shy and nervous at first. Being 3 and half stone lighter, I definitely feel and look different. Just half a stone to go then I will have reached my target!