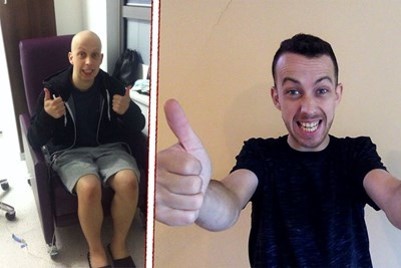 Congratulations to Mark Chadwick, the winner of our members #TotalTransformation campaign and a year's free membership with us at Total Fitness! Well done Mark, your story is a true inspiration!


Back in the summer of 2015, I joined my local Total Fitness after experiencing some muscle and joint pains. One of the instructors gave me some basic exercises to complete and an introduction to some cardio machines that might be useful. For a few weeks I tried to complete the routines provided and found I was getting increasingly run down and each time was physically harder to complete. Something didn't seem right. After numerous trips to see my GP, I was sent straight to A&E following a blood test and diagnosed with Leukaemia (a blood cancer). I spent a month in isolation receiving my first cycle of chemotherapy then had two more cycles of chemo as an outpatient. 4 months into the treatment Doctors told me I was in a high risk category for relapsing in the future, and to reduce this risk a Stem Cell Transplant (SCT) would be an appropriate route to take. Whilst I continued my 3rd cycle of chemo and a suitable donor was found, I was told to prepare myself physically for a grueling few months during and post transplant (of anything up to 18 months). I was told I would be losing weight and that those stronger physically generally fared better through the recovery. So I went back to the gym. The first day back was hard, after months of chemo and extended periods in hospital, I was only able to complete 3 minutes of jogging on a treadmill before tapping out. But I persevered and after 3 weeks I had gotten myself up to maintaining a 20 minutes jog. In March 2016, I went back into hospital for 5 weeks to undergo the transplant. In the space of 3 weeks I dropped from 64kg to 55kg. After months of slow recovery, where at first I struggled to walk up the road I got to a point where I was feeling able to start doing a bit more. A Stem Cell Transplant obliterates the immune system, so activity and where you can visit is restricted. Once my immune system was strong enough for me to go back into public spaces I came back to the gym and started back on the treadmill.
At first I was back to square one, 3 minutes on the treadmill and I needed to tap out, but perseverance saw me building up the amount of time I could endure, all bet a lot slower than before the transplant. Once I was at the stage of considering going back to work I realised physically I wasn't up to the demands of my job. So I approached the team about personal training. Within a minute of me mentioning it I was introduced to Chris Jones, a personal trainer, and we sat down and had a great conversation. I explained my history and what I wanted to achieve. Chris was completely understanding and his recognition of the importance of rehabilitation in recovery impressed me that much, I signed up. We looked at correcting muscle imbalances I'd developed whilst strengthening posture and improving cardiovascular ability. 3 months into PT sessions, I'm constantly feeling the benefit and we've covered some serious ground. My recovery has definitely gone smoothly as a direct result of getting into the gym and more so working with a Personal Trainer who understands my weaknesses and knows when to push me and (more importantly) when not to. Every day in the gym is a physical challenge but it's one I'm enjoying working through.