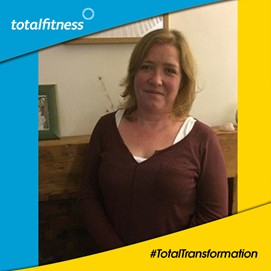 TF Altrincham member Lisa Paxman's story.

Well done on achieving overcoming your issues with self confidence Lisa!

Two years ago I was struggling with heart palpitations and other effects that come with having high stress levels. I'm an average middle aged woman with a higher than average weight, and realised I desperately needed to do something about my lack of fitness to allow me to cope with caring for my Autistic teenage son.

I'd never really considered joining a gym because I felt too self conscious. I felt so nervous once my husband had persuaded me that we should join and give it a go. For that reason I spent the first twelve months of our membership working out in the ladies gym room. By contrast, this year has been a revelation for me.

With the encouragement of Altrincham Total Fitness staff I took what I felt was a huge leap to work out in the main gym area. I've had so much fun having thrown caution to the wind and worked out alongside the young, fit and glamorous as well as the multitude of ages, sizes and fitness levels, just like myself. I have felt so liberated by the experience and only hope to encourage others to take full advantage of the equipment and expertise at Total Fitness. It has increased my confidence, fitness and general feeling of well-being.

It has definitely been life changing for me. Thank you, Total Fitness.
Have you got an amazing story to share? Go to https://www.totalfitness.co.uk/members-transformation/ to tell us about your story and be entered to win a year's free membership.