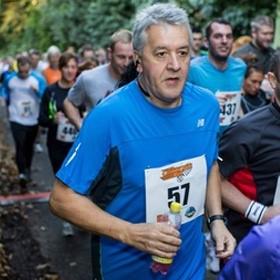 In my mid 20s, I used to run Half marathons for fun with a PB of 83 mins. Now approaching 56, I was told by my doctor in February this year I was obese, cheeky sod! But I guess at just shy of 17st he was right. It gave me the kick I needed so I joined a small local Kirklees gym but, after a couple of months I realised I was just not motivated by it at all. So in May this year and 1 month before my summer holiday, I joined Total Fitness. My 1st goal was to try lose a stone before my holiday, a big task considering that when I jumped on the treadmill I could just manage 2 mins before being out of breath. But I pushed on and lost 3/4 Stone and felt fairly pleased with myself.
All holiday I was eagerly awaiting my return to the gym, I needed a goal. Which I soon found! A 10k road race at Cannon Hall in mid Oct, my main aim was to get around this race in under 1 hour. The Treadmill was to become my new best friend along with the bike and swimming pool. No longer did I go to the pub for a pint after work, it was a call to the wife to say I'm just popping to the gym. The weight began to drop and before long I could run for 30 mins with ease both on the treadmill and out on the road. I also started using other weight machines after some tips from the staff here at Total Fitness.
I ran the 10K in 56 mins 19sec and now weigh just over 14 Stone, not bad after 26 years of non running. I have changed my diet from pork pies and McDs to fruit, Rice, fish, and anything healthy. My next goal is 13stone and a Triathlon in May of next year!