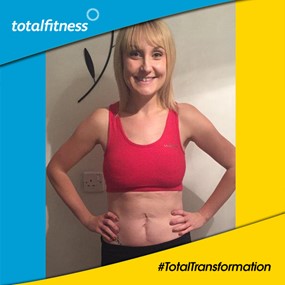 TF member Kelly Rogers' awesome story about overcoming Crohn's Disease.

Everyone has their own story, something they battle through each day with. Take a look at TF member Kelly Rogers and her amazing story about overcoming Crohn's disease.

"Right, where to start!? I was diagnosed with Crohn's disease young age of 16 and after years of steroids and then eventually stomach surgery, which left me with a large vertical scar, I was left with very little confidence with my body.

After having our little boy 5 years ago, the pounds didn't seem to shift and even with my amazing husband by my side, reassuring me always saying I looked beautiful, I felt far from it! My Mum and Dad decided to join Total Fitness in October 2015 and they told us to join. I love working out and seeing what my body can actually achieve, I suffer a lot from fatigue due to my illness but I feel it has improved massively with going to the gym and eating the right foods.

As for my confidence....... I have secretly booked a Boudoir photo-shoot of myself for the hubby as Christmas present."

Well done Kelly on everything you have achieved!

Have you got an amazing story to share? Go to https://www.totalfitness.co.uk/members-transformation/ to tell us about your story and be entered to win a year's free membership.