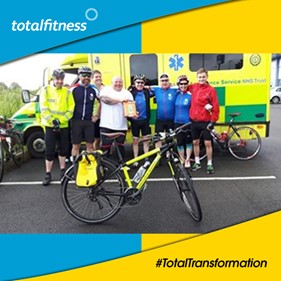 TF member Karen Warner's story

Another #TotalTransformation story that is amazing! We are really enjoying reading each member's own personal achievements. Karen's story shows exactly what you can achieve by training and working hard. Well done Karen on raising £5000 for the Danny Jones charity!

"I was keen to be my fittest ever at 50 (big birthday next year!) I was fed up feeling middle age was creeping up on me... Unhappy with my weight, my fitness and my shape - I gathered up what confidence I had left and started training with PT.
I soon started to believe in myself again, I had lost almost a stone but more importantly felt strong enough to sign up with friends at work to take part in a bike ride in aid of the Danny Jones charity to raise money for defibrillators.
I was touched by his story and his wife's subsequent campaign for all rugby clubs to have a defib. We trained hard and I never believed I would be able to do it, but we cycled 143 miles in one day calling at all the rugby clubs from hull, I felt so happy and proud of what I had done! And all the support I had from family and Adam was awesome... I did it!! We raised £5000 for the charity and promised we will d it again!" 

Have you got an amazing story to share? Go to https://www.totalfitness.co.uk/members-transformation/ to tell us about your story and be entered to win a year's free membership.