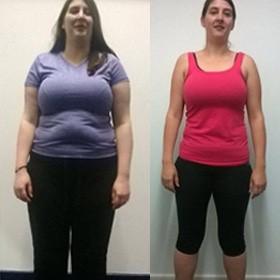 I first joined Total Fitness back in 2012, like so many other people I used my membership regularly for the first couple of months then slowly stopped going... There were always reasons not to go and always "better" things to be done.
My membership just became something I paid for and didn't benefit from.
So with a complete lack of motivation, I just got more and more out of shape. By the end of 2013 I was my heaviest ever, tipping the scales at over 16st, I was literally busting out at the seams! My body couldn't take anymore, I had stretch marks everywhere and I was repairing rips in my size 18s on a regular basis.
Enough was enough. I had to go back. Stepping back through that door after so long was the hardest thing I've ever had to do, but I'm so glad I did. It was Total Loser 2014 that got me to go back and I'm so happy I entered! Thanks to total fitness a my life has completely changed.
I've lost over 50lb, dropped three dress sizes and gone from someone who considered exercise a swear word to someone who can't live without it.
In the last ten months I've run two half marathons, two full marathons and completed the three Peaks Challenge! And I've recently joined an American football team! To put that in perspective this time last year it took me 48mins to complete a 5k.
I hate to think what would have happened if I hadn't have come back to Total Fitness... I'm so glad I did!