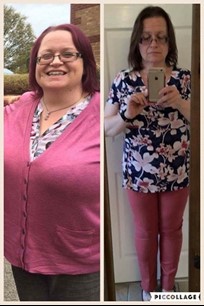 TF Chester member Jessica Jones' amazing weight loss story!

A light bulb moment at that changes our life for the better! Well done Jessica on your #TotalTransformation!

"I was stood in a bathroom in Hammer Springs New Zealand, it was our Honeymoon, to my horror the towel was too small… I cried out to my Husband, 'Right that's it! I've had enough, when we get home I'm joining Fat Club and the gym!'

So true to my word and with some amazing help, guidance and support from many of the gyms members, I started my transformation journey.

Now six stone lighter, I'm fitter than I have ever been in my life. I train every day and have even started to run with the intention of completing the Chester Half Marathon next year, along with the three peaks challenge.

I won't lie, it's been tough at times but the camaraderie at the gym has really helped to get me this far. Not quite at my target weight, but this stage of the journey is all about loving the fitness and reinforcing my training ethos."


Have you got an amazing story to share? Go to https://www.totalfitness.co.uk/members-transformation/ to tell us about your story and be entered to win a year's free membership.