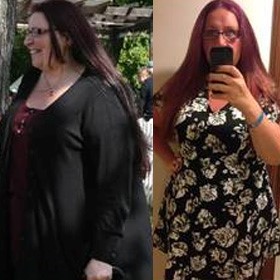 I have been overweight all my life, but 2 years ago I reached my biggest size of 23 stone 10lb, after years of yo-yoing through failed diets. I was miserable, depressed and ashamed of what I had let myself become.
I was stuck in a rut and had resigned myself to the fact I would be fat and immobile forever, but when my health started to deteriorate and I was told my heart wasn't working properly, I knew I had to do something.
I have 5 children, 3 of whom are on the autism spectrum, and I wasn't going to leave them without a Mum. So I decided to try Slimming World. I knew having the support of other members, as well as weekly weigh-ins in front of the whole class, would help me lose weight.
Up until May I was doing great! I lost about 4 stone and I was feeling a bit better about myself. My Mum then gave me some devastating news - she had terminal pancreatic cancer and was expected to survive about 6 months. The diet went out of the window. I wasn't interested any more. I was devastated. I drove the five hour journey as often as I could to see my mum and help her out.
As time went by the weight crept slowly back on. I was in a very bad place emotionally. My Mum passed away in May this year, 12 months after diagnosis. I decided I needed to get a grip. I needed to get my head back into losing weight... my Mum always wanted me to be healthy.
My heart condition was getting worse and I was passing out just climbing stairs. My mobility was very poor and I couldn't walk without my crutches and even had to use a wheelchair if I had to walk too far.
I decided to look online for a personal trainer who worked with sick and disabled people. I found Phil from EVO fit and I joined Total Fitness in June. I didn't think I would be able to do any exercise because of my health problems, but with my trainer's help I got fitter and started walking without my crutch,
I followed the diet he gave me and made sure I visited the gym 6 days a week. I am down to a size 20 from a 28/30 andI have lost a total of 7 stone 5 so far! I still have a long way to go to reach my goal (4 stone 6lb ish!) but I LOVE coming to Total Fitness so I know I will do it.
The staff here are all so friendly and very supportive and the classes are lots of fun. Joining Total Fitness has definitely changed my life. I can't thank all the staff and my trainer enough!