I've fought this horrendous illness, now I'm winning
I've fought this horrendous illness, now I'm winning
"I've fought this horrendous illness and now I'm winning"

I've had a very difficult eighteen months. 
My dad died suddenly in October 2015 and my mum had both Alzheimer's and Vascular Dementia. Even though I had visited my parents often, my dad had hidden a lot of her illness and his death also contributed to the further rapid decline of my mum's illness.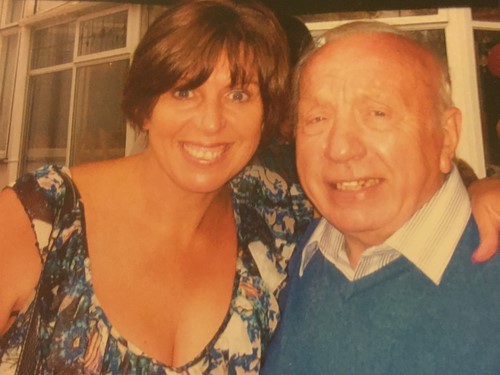 Tracey with her dad
Both my husband and I worked full time, we have three children and it was a struggle looking after mum. My brothers and I reluctantly decided that she needed to be cared for in a home and this devastated me.
I felt guilty that I had let her down but her needs were too great for my family to deal with. Dementia is the poor relation of many illnesses and I think there is still a stigma attached to it. However, one of the hardest things was the constant grieving for my mum whilst she was still alive. Every visit to the home brought anguish.
My mum, who had been there throughout my life was forgetting me and finding it difficult to do things for herself. This was physically and mentally exhausting and debilitating. I felt like I was in a constant state of mourning.
I was working full time in a pressured environment with many responsibilities. I really wasn't firing on all cylinders. I was struggling with depression, but I didn't know it. Family life and work demands meant I was constantly pumped up with adrenaline. I couldn't sleep, I felt utterly fatigued and increasingly overwhelmed. I felt ill all the time with aches and pains.
Then one day, my body just said I can't do this anymore.
It was a mental crash, but the physical exhaustion was immense – no one really understands unless they've been through it, but it can happen to each and every one of us.
I was very poorly. Depression is a real illness with real symptoms and a genuine health condition, but unfortunately it still has a huge stigma.
I feel strongly that depression is not a sign of weakness, or something you can 'snap out of' or just 'pull yourself together'.
My family, friends and colleagues were amazingly supportive, especially my husband. Depression can hit at the heart of who you are, it strips you of all confidence. I had in effect become a shadow of my former self.
Joining the gym
Eventually, when I was starting to recover from the sheer fatigue, my husband suggested I join Total Fitness. I was still not well enough to return to work, but my priority was getting into a routine, building up my stamina and finding ways to combat the crushing anxiety. 
I had to force myself to get up and go to the gym. This gave me focus and direction.
Swimming was initially my way forward, and each stroke seemed to break through the deep pit in my stomach. The plunge pool made me feel exhilarated while the hydrotherapy pool eased the aches and pains that my body felt riddled with.  
Zumba started to give me my bounce again and made me laugh as I'm so badly coordinated, but it didn't matter! Aqua Aerobics was fun but also the exercises didn't make me feel that I was pushing myself too hard.
Paul, one of the trainers at Total Fitness, gave me a simple routine to do in the gym and treated me gently with understanding. I wasn't up to spinning or intense training as I knew that would increase my cortisol levels and make me more anxious. So instead, I worked on a gentle training programme and over time I was able to build myself up to body conditioning classes.
Exercise helped me to mend both psychologically and physically. It began to improve my mood, reduce my anxiety and I felt fitter and more energised. The endorphins helped me to find my zest and sparkle.
It wasn't an easy ride – the crash had been so incredible that mending myself emotionally took time. Sometimes in Zumba I didn't like to see myself in the mirror as I'd put on weight and my self esteem was low.
But I started to mend from the inside. I began to feel beautiful inside again and I've started to catch myself in the mirror at Zumba and I like the person who is looking back at me! 
There is still a long way to go in terms of fitness and weight loss. I'm not a beach babe in Lycra, but I'm me. I've been doing Total Loser and I'm enjoying the camaraderie with the ProFit team.
Losing mum
My mum's illness continued to be heart-breaking. She had three admissions to hospital with life-threatening conditions and sadly on her last admission in February this year, she died of pneumonia. It was a very traumatic time and I'm still grieving her.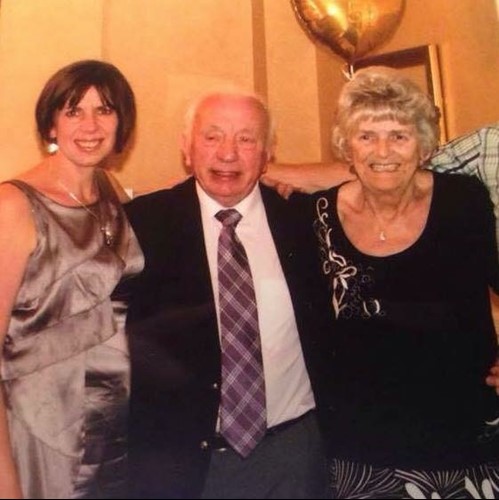 Tracey with her mum and dad
I have been overwhelmed by the outpouring of love shown to me after my mum's death. I think people understood how badly her illness had affected my own emotional well-being and I'm so grateful for all the support I've had from my family, friends and colleagues.
Looking to the future
I recently returned to work after an absence of ten months. I wasn't sure if I would ever feel ready to go back, but now I'm going to work with a smile on my face and a bounce in my step. I'm loving my job but have learnt not to put too much pressure on myself.
This illness has enabled me to take a long, hard look at myself and has helped me take stock of my life. I feel better prepared and able to cope with life's challenges and it has given me new insight. I have a better perspective and I am more appreciative of everything I have. I am also extremely lucky to have such an amazing husband and family. I have found many true friends too.
I'm not hiding what happened to me – I have nothing to be ashamed of. 
I have fought this horrendous illness and I'm delighted to say I am winning.
- Tracey, Total Fitness Altrincham