How to learn to love the gym (yes, it is possible!)
So we get it, we are a little bias, we love getting sweaty at the gym but we know this isn't the case for everyone. For some, the gym is daunting, a chore and somewhere they go because they feel like they have to, or maybe you just avoid it all together! We truly believe that we can get anyone to fall in love with the gym and here's how: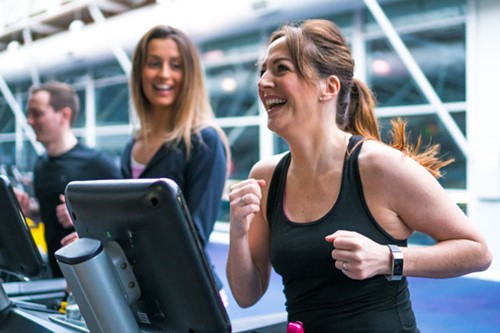 Try different things
If you're not sure what floats your boat in the fitness world, then take the time to try lots of different things; cardio equipment, weight lifting, yoga, spin, body pump, running or swimming. You might hate some things and we feel you – 30 minutes on the Stairmaster is not for everyone but by giving everything a good go you will find something you enjoy and you'll love how it makes you feel.
Workout for the right reasons
We end up hating exercise because we've been taught to do it for the wrong reasons. Research shows that the majority of us exercise because we want to lose weight and then we give up when the weight doesn't come off as quickly as we would like. In fact, people who cite weight loss as their primary motivation for exercise actually work out less than those who cite other reasons. So whilst you might want to lose the pounds, and that's absolutely fine, try and think of other reasons why you enjoy coming to the gym and then you might not be de-motivated when one week those scales stay the same.
Make your routine sustainable
If all of a sudden you throw yourself in coming to the gym and running on the treadmill 5 times a week, then the chances are you're going to find it hard and quite frankly boring unless you absolutely love running. Then after a couple of weeks, you're probably going to sack it off and never return to the gym again. Sound familiar? Well once you've found something you love, try coming a couple of times a week. You'll find by not setting strict expectations on how often you should be coming, you will probably want to come more.
Get some new workout gear
So many places do some great gym clothes these days and you would be surprised how much a new pair of LuLuLemon's (we can dream) or Primark leggings will make you want to go to the gym. And, before you feel guilty about the splurging your cash on new trainers, it's actually scientifically proven that wearing a particular item of clothing can influence your behaviour and attitudes. 'Enclothed cognition' is all about the meaning you associate with a particular item of clothing, so wearing active wear can make you more active and more likely to get to the gym. We're sold, anyone for a trip to Sweaty Betty?