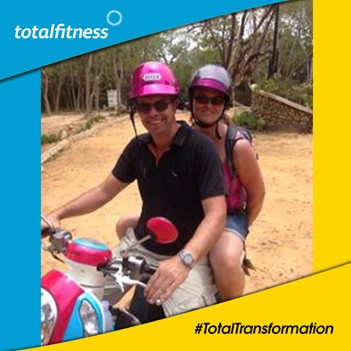 TF Wilmslow member Helen Rogers' #TotalTransformation story

"So I joined Total Fitness as the pool is the best around by miles."
It's not just us that believes we have the best pools around! Well done Helen, your story is a real #TotalTransformation!

"In 2014 we visited Cambodia and I was appalled to learn so much about the atrocities that had taken place there. In the photos I am with my husband Andrew (I was not the lightest passenger on the moped!) and with our children. Here I am, overweight, unfit and living a western lifestyle of freedom, but also killing myself by not looking after my body. I love swimming but had become so unfit I felt unconfident about returning to the pool - so I joined Total Fitness as the pool is the best around by miles. Slowly but surely I went from swimming breast stroke only for 10 lengths to 40, then, on a quiet night in the pool, I was brave enough to try one length of front crawl - I did it! Next time for every set of 10 lengths I did 8 breaststroke and 2 front crawl. I was starting to feel fit again and confident. THEN disaster, I have an existing problem with my neck and had had surgery ten years previously but I was struck down with the most incredible pain which basically rendered me house bound for 8 weeks, until I had surgery to remove the disc and have it replaced. What if I could never swim again? The surgery was very successful and alleviated the intense pain, I was raring to get back to swimming and the consultant advised me to be cautious and not swim for at least 3 months. The first time I got back in the pool I was terrified that someone would knock into me and I was very nervous, that was six months ago and I am THRILLED at how quickly my fitness has come back and I am back up to the level I was at when I was taken ill. Due to my delicate neck I do have to be very careful about what exercise I do and having a sedentary job I need to get moving, swimming really is a great option but I do need to keep pushing myself to get out of breath – sometimes it is very easy just to glide up and down rather than having a real workout! Oh and the best thing – is the underwater earphones my husband bought me for Valentine's day!"

Have you got an amazing story to share? Go to https://www.totalfitness.co.uk/members-transformation/ to tell us about your story and be entered to win a year's free membership.