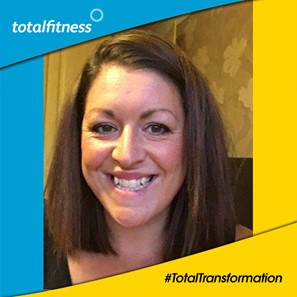 TF Lincoln member Helen Emmingham's story.

Having the motivation to go the gym each week is something that we all wish we had, its easier said than done but its something we try and achieve week in week out. Let alone getting the courage to sign up for a personal trainer, but sometimes that's just the kick start we need. So if you are struggling to find your motivation and are unsure whether PT's are for you, have a read of Helens story!

"Well what can I say! 6 months ago I got in touch with TF PT Esme Hall, it was the best thing I have ever done! Treating myself to 2 sessions a week with Esme then doing other classes by myself and swimming.

Well, I have totally changed as a person and the way I think about food. I have lost 2 stone since May and dropped 2 dress sizes so far! I can't believe it… I'm super proud of how far I have come!

I wouldn't have been able to do it without Esme's help and support. Even on my lowest days and when I felt like I couldn't do it or just couldn't be bothered, she pushed me to make me realise that I could do it, and I did!

I'm healthier and happier, I enjoy coming to the gym. I take Esme's circuit class a week and just started doing a spin class too! 6 months ago I wouldn't have even dared to even walk into those types of classes, but now I would in with my head held high and knowing I can do it!

So if you are like me and think I am unfit to go to the gym then don't think like that at all. Get in touch with a member of the team and they will support you and help you achieve any of your goal. I still have another 2 stone to go, but with the support of Esme, I know that I can do it! It's a lifestyle chance to get where I want to be. I am focused and feeling very happy and positive about the new changes in my life."

Have you got an amazing story to share? Go to https://www.totalfitness.co.uk/members-transformation/ to tell us about your story and be entered to win a year's free membership.