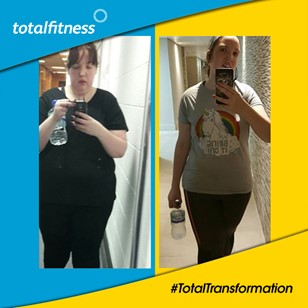 TF member Harriet Kemish's brilliant weight loss story

The #TotalTransformations just keep on coming! Well done Harriet on your incredible achievement of losing 100lbs!

"When I walked into the gym for the first time, 11th January 2016, I tipped the scales at a horrifying 21st 5lb. I was unhappy with how out of control my weight had become. Like most people in the gym at that time, I was on a New Year's boost to be kinder to myself. Carrying all that excess weight is not kind... Those first few visits were awful. I couldn't manage more than 30 minutes of a activity without feeling like a sweaty mess, but I didn't give in. I couldn't! I was eating myself to death and it had to stop. I started taking a picture before every work out, I could barely look in the mirror, but I wanted to document what I was doing as proof I could change. So I kept going. It got a little easier each week. And the desire to eat junk food went away.

As the exercise was so hard it wasn't worth undoing the hard work by eating the wrong foods. I learnt about what to eat to fuel my work outs. By August I lost 6st and was fortunate enough to win a Personal Training competition because of my dedication, with a personal trainer for a month. I learnt so much about what I was capable of achieving with the right support having been working out by myself all year. Recently I hit a huge milestone of 100lbs loss, that's an incredible 7st 2lbs! I'm not done, and I don't think I ever will be!"

Have you got an amazing story to share? Go to https://www.totalfitness.co.uk/members-transformation/ to tell us about your story and be entered to win a year's free membership.