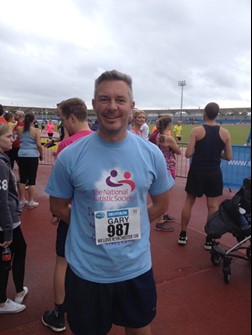 TF Wigan member Gary Hankin's story!

How one goal can lead to so many achievements! Well done Gary on everything you have achieved!

"I have been a member of Total Fitness for over a decade now, but I had got into the habit of just using the weights and found that I was putting on weight but not in the right areas! It was approaching Xmas and discussed my situation with one of the trainers at the gym who suggested mixing up my routine and building in some cardio work. As a 43 year old bloke who had never run for a bus I wasn't keen, but the trainer suggested the upcoming Santa Dash with the team at Total Fitness to make it more fun. I signed up and started to do some training in the build up - just slow jogs at first, but gradually building up to 5k. The big day came and dressed in my Elf hat and Xmas jumper I did my run. There was a great atmosphere with everyone cheering each other on and I felt really proud to finish. Since then I have done the Great North Run, several 10k Runs and have just got in to the London Marathon - all starting with a TF Santa Dash!"


Have you got an amazing story to share? Go to https://www.totalfitness.co.uk/members-transformation/ to tell us about your story and be entered to win a year's free membership.