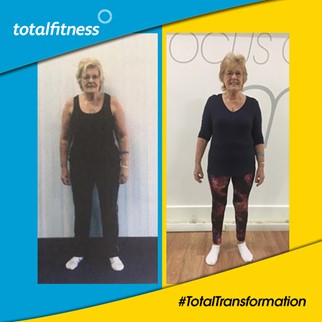 Beth Murray PT (on behalf of her client TF Bolton member Dorothy Ransom)

"I am a personal trainer based at Total Fitness Bolton and one of my clients, Dorothy Ransom 78 years old, at our last review wrote down all the positive changes that have been made to her life since she started training 12 months ago. Here is what she wrote...

• Reduction of sciatic pain
• Pins and needles in legs reduced to 10-15 minutes a day from being almost constant
• Now able to walk upstairs unaided
• Can get in and out of the bath unaided
• Can rise from seated position unaided
• Reduced number of migraines and now takes NO PRESCRIPTION MEDICINE
• No laxatives needed due to greatly improved nutrition plan
• Has now got control of her type II diabetes
• Very rarely has periods of depression and generally much happier in herself
• Sleep pattern has greatly improved
• Improved posture, range of movement and flexibility
• Much more confident and relaxed in social situations due to increased self-esteem and confidence
• Thrown out all her 'baggy' clothes and feels young again
• Feels AMAZING at family gatherings when grandchildren and younger members of the family sat down and talked to her at length rather than previously just saying a brief 'hello aunty Dorothy' and then moving on
• General quality of life has improved on EVERY level

I would like to nominate Dorothy as I am so proud of her dedication and positive mind set in refusing to give up and making every effort to turn her life around. She really is a shining example that it's never too late!! I have attached pictures which were taken 12 months apart and they speak for themselves but for me the biggest clue is how happy she looks...the camera never lies!"

Have you got an amazing story to share? Go to https://www.totalfitness.co.uk/members-transformation/ to tell us about your story and be entered to win a year's free membership.