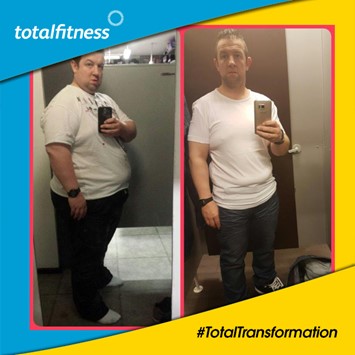 TF Wilmslow Member Darran Kemp's amazing weight loss story.

 What you put in, is exactly what you get out! Well done Darran, your hard work and determination shows exactly what anyone can achieve!

"After years of no exercise and eating anything and everything, my health became so bad my knees were in constant pain and impacting on my general movement. Buying clothes was hard, as the size I needed were hard to find being 5foot7" and 50-55 inches at the waist / XXXL T-Shirts.

In June 2014 I had reached 22st3lb and needed to do something about it. I went to the doctor and started to diet. After losing 12lb in a month I decided to join the gym, so I joined the gym I had left nearly 9 years earlier and paid for a full year to give me the incentive to go each week.

I struggled to do more than 20-30 minutes exercise at first, but I set a goal of doing a spin class which I regretted 5 minutes into my first class. As I was out of breath and legs were in pain - I lasted about 20 minuets maximum (probably less) out of the 40 minutes class. Feeling ashamed of myself I said to myself, I will do a full class without stopping! Over the next 4 weeks I lost a further 14 lb and lasted 1 full Spin class!

In July I started working with a personal trainer (Mark Parker) once every 2 weeks, before moving up to once a week. I lost a further 18lb in 6 weeks (now the start of August & weighing 20st 5lb). 
Over the next 8 weeks I started to increase what I could do each time, I went to the gym and was getting totally pushed to the limit in each personal training session - I dropped a further 20lb!

By the start of November I was starting to feel I could really make bigger changes than I had hoped for and started pushing myself even more and started seeing changes through photos.

At the start of December, I started to really push for 17st by Christmas. I hit 16st 12lb just before Christmas and really started to think of what I could do now.

The start of 2016 I set out targets of what I wanted to achieve and did not keep them to myself, I posted them on Instagram to me another incentive to help me achieve everything I wanted to!

Pushed by Mark to keep going and constantly moving targets, I slowly carried on losing weight and increasing my cardio in each PT session. My fitness level increased week on week, and lost a further 2st 11lb (39lb) over the next 6 months.

Currently…
Weight : 14st 3lb to 14st 5lb
Waist : 36 inches
T - Shirt size : M - L"
Have you got an amazing story to share? Go to https://www.totalfitness.co.uk/members-transformation/ to tell us about your story and be entered to win a year's free membership.