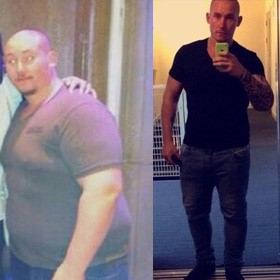 Since I was young I've always had a problem with my weight. At the age of 12 I was 5 feet tall and 13 stone. I lost a little bit of weight during school, but when I got to college and university got a taste for beer and takeaways and ballooned to an embarrassing 24 stone.
Going out every weekend with my friends became embarrassing and I was jealous of the nice fitting clothes whilst I was shopping for xxxl t-shirts and 48 inch waist jeans.
On New Year's Day last year I decided I was going to turn my life around and drop the fat especially as the lads had booked a holiday and I didn't want to look like a beached whale next to them.
I hit the gym every morning at 6:30 am for 2 hours (1 hour cardio 1 hour weights) then went to work. My diet was second to none consisting of lean meat, green veg and slow release carbs to get me through the day. As soon as 5pm came I was straight back in the gym to do another 2 hour session hitting a different muscle group and another grueling hour of cardio.
My routine became an addiction and the lbs were dropping off. I was getting so many compliments which we're spurring me on and keeping me motivated. It's been 10 months since I started my weight loss journey and I'm still not missing a session in the gym.
I've got from a 48 inch waist to a 36, an XXXL t-shirt to a medium and from 24 stone down to 13 stone 10. I'm back playing rugby and life is so much better.
If I can do it anybody can. If you put the effort in anything is possible.