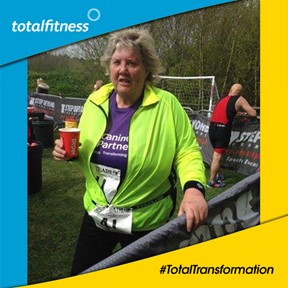 TF Lincoln member Claire Welfare story.

There are setbacks in life that make us wonder… will we ever be able to achieve the goals we wish to set ourselves? Lincoln member Claire Welfare didn't let her complete knee replacement stop her from completing the Lincoln triathlon, well done Claire!

"I had a total knee replacement back in December 2014 and as part of my recovery I became a regular user of Total Fitness. Using your excellent facilities along with wonderful support and advice from one of the onsite team of physiotherapists (Liberty Physio) I was able to make a good steady recovery by slowly building up my strength and stamina. It was a slightly mad ambition, for an overweight 61 year old with a replaced knee, to attempt a first triathlon 18 months after my operation. But that's just what I did! I trained every day for four months either swimming, cycling (at first on the static bike) and jogging (initially on the treadmill). Well... On May 1st this year, I took part in the Lincoln triathlon- I wasn't fast but I DID IT! I am SO proud of my achievement and raising £965 for Canine Partners for Independence. I couldn't have achieved this without being able to use your wonderful facilities so a big thanks to Total Fitness Lincoln. I may do the triathlon again next year as I enjoyed it so much!"


Have you got an amazing story to share? Go to https://www.totalfitness.co.uk/members-transformation/ to tell us about your story and be entered to win a year's free membership.