How many times throughout the day do you debate with yourself if you're going to go to the gym or not? For me probably 10 – 15 times a day! But in my defence I still go and always feel so much better after it. I like to shake things up at the gym though, I think that's why I don't get bored and get put off going.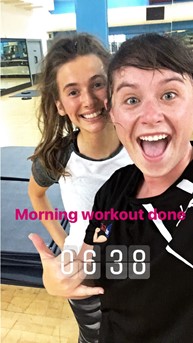 I for one know that if I spend more than 10 minutes on a cardio machine I get bored and want to go home. Here are a few tips on how to shake things up when you're working out at the gym:
Join a class – Total Fitness have a big selection of classes and I know when I'm in the "can't be bothered" mood, which ends up with me doing little in gym, I go to a class. Usually a HIIT class or a spin class but that's just my preference. This makes me go and I feel a thousand times better after it.


Plan your workout – You can either plan your workout for that day or for the week. It makes it so much easier going into the gym and knowing what you're doing. I have a fitness journal (yes it's true, I am a gym geek) so I write all my workouts down and I can then see what worked and what didn't. I have plenty of workouts on my Instagram (CoachKim17) that you can use or you can DM me on Instagram and I will help you out with some workout ideas!


Be Your Best – Set yourself a goal. This month my goal is to run a mile every day in October. Either outside, on the treadmill or on the track at Total Fitness. I love challenging myself and giving myself little tasks, I also tweet and Instagram my challenges so I can inspire other people to give it a go and if people know what I'm doing, it means I have to do it! Challenges could be run a mile each day, do 100 sit ups a day, swim five times a week. There are so many to think of, and it'll just shake things up for you and give you a little motivation for a workout and getting to the gym.


Celebrate the small stuff 

–

When you do something well, acknowledge it. Bask in it. You earned it! There's absolutely nothing wrong with feeling proud of yourself. Did you train a few days in a row for the first time in weeks? Have you been climbing the stairs instead of catching a ride on the escalator? Was your diet perfect for a whole day? That's great. Tweet it! I love a tweet and so do Total Fitness... use that pride to rebuild momentum toward your goals.
Sometimes it is hard after a long day at work, so remember, you don't have to go to the gym every day, but when you do, make it the best workout you have ever done!
Be happy and believe in yourself.
Coach Kim
Follow Kim on Twitter and Instagram for more inspiring tips and tricks.
Read Kim's other blogs for Total Fitness here: 
#BeYou Introducing Coach Kim, our Guest Blogger
#BeTogether The benefits of working out with a friend