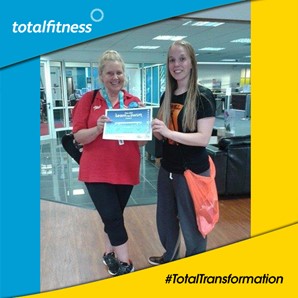 TF Prenton member Amy Parkinson's inspirational story of how she learnt to swim with the help of Becky Adlington's Swim Stars!

Being able to swim is something that you may take for granted, you might presume that all adults can swim and that it's just children that have swimming lessons. Well that's not the case at all, it takes real courage and determination to learn to swim as an adult, and that's exactly what TF Prenton member Amy Parkinson did. Amazing!! Well done Amy you really are a true inspiration to others!

"When I hit the BIG 3-0 I decided that it was about time that I learnt to swim properly, so bravely I took the step and started getting lessons from the lovely Lorna Dewhurst from Becky Adlington's Swim Stars at TF Prenton.

It hasn't been easy and at times I felt extremely embarrassed, especially when you see little kids being able to swim better than you. Also, when you are practicing with a float while everyone 'power' swims past you, but honestly it's been truly worth it.

I can now swim like a fish! Lorna let me do my level 5 swimming badge because I never achieved it when I was younger… I have the certificate proudly displayed on the mantelpiece and feel like a swim legend! One day I am hoping to be able to do a triathlon, which seems really scary but, the fact that I am now able to consider this as an option is fab!"

Have you got an amazing story to share? Go to https://www.totalfitness.co.uk/members-transformation/ to tell us about your story and be entered to win a year's free membership.