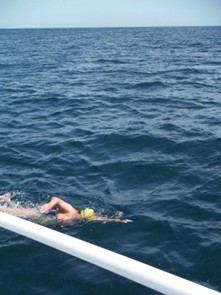 TF Teesside member Amanda Bell's amazing story of swimming the English channel!
From no exercise, to swimming the English Channel, well done on your amazing #TotalTransformation Amanda!

"In 2010 I decided that after spending years of doing no exercise that I would start swimming and entered the Great North Swim, which is held in Windermere. I joined Total Fitness and got into the pool a couple of times a week, I struggled with swimming a mile each session.
Swimming the GNS meant that I also needed to swim outside as well as the pool. I completed a few one mile open water swims before needing to rest due to a shoulder injury, and started using the gym to build some strength back. I then took on other swims including 3.8k events and 5k events. Then in 2012, I completed a one way Windermere swim (10.5 miles) in a time of 6hrs 15! Swimming had now become a habit in my life, I was swimming each week and attending the gym regularly. I was benefiting both physically and mentally. My confidence was increasing and I met many people who have become good friends too. Swimming has given me the new start I needed, and now I crave it. In 2013 I completed a two way Windermere Swim (21 miles) in 13hrs 42mins, and felt that I was now ready to take on the BIG SWIM! In August 2014 I successfully swam the English Channel in a time of 18hrs 26mins. I'd gone from no exercise to the English Channel in just four years! I am still swimming regularly at Total Fitness and the local river and have since completed other swims including Round Jersey last August."

Have you got an amazing story to share? Go to https://www.totalfitness.co.uk/members-transformation/ to tell us about your story and be entered to win a year's free membership.